You are here
Home
› Floralies of Antibes
Floralies of Antibes
Friday 17 May 2019
-
Sunday 26 May 2019
Esplanade Pré des Pêcheurs
avenue Frédéric Mistral
France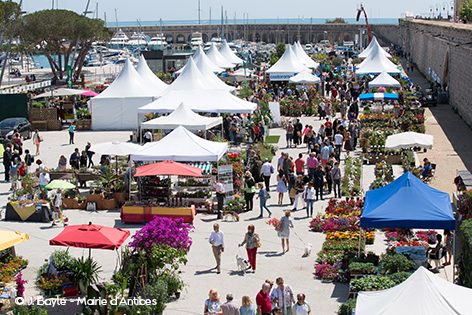 Each year, at Spring
Capital of the rose, land of horticulture and cradle of the Meilland creations, Antibes has maintained a strong history with the flowers it wishes to cultivate…
More than 6000m² of exhibition hall, located in a marvellous setting at the bottom of the Remparts to the Old City door and surrounded by the Port Vauban.
This Fair will highlight innovation in the fields of vegetal, cultivating means, furniture and necessary garden equipments. It is part of the Floralies, which includes numerous animations in the city.
Pré-aux-Pêcheurs Plaza
Traditional Flower Battle, organized with the local associations. Free entry.
Villa Thuret – Open door
An exhibition on remarkable trees will be held in the morning.
 Villa Eilenroc
"Garden Scents" – an exceptional location to (re)discover, with its rose garden, olive grove, and a poetical stroll in the Villa's park. Numerous stalls.
At 10am: Conference by Soraya Bouvier Feder "Rare perfumes of Provence and the Riviera"
"Celebrate Exflora", at the Exflora Park in Antibes-les-Pins
All throughout the day, the park will be transformed in an animation venue around nature and respect of the environment, in relation with the CASA (Community of Agglomerations around Sophia Antipolis): games and awareness raised about waste-sorting; recycling of plastic bottles with an ambassador… There will also be an animation around bees with the making of beeswax candles. At the same time, the "mornings around early childhood" will be held with information stalls and diverse animations – puppet show, tales reading – to discuss childcare methods from 0 to 3 years old.